Programs & Services


Goodwill provides training, job placement and career support services to help people with disabilities and other vocational disadvantages develop the skills needed for sustainable employment.  Services are primarily offered at Goodwill's Workforce Development Center at 3400 Tulane Avenue, Suite 1000, in New Orleans, and are provided in partnership with a number of community partners. Goodwill's Baton Rouge office offers employment services for referred clients with disabilities only.
Contact Goodwill's Workforce Development Department today for more information at 504-456-3925.
Goodwill Industries of Southeastern Louisiana Employment & Training Centers:
Baton Rouge:
647 Main Street, Baton Rouge, LA 70802  Phone: 225-308-0220
Job placement and training services to referred clients with disabilities only. Clients must be referred by Louisiana Rehabilitation Services.
New Orleans:
3400 Tulane Avenue, Suite 1000, New Orleans, LA 70119  Phone:  504-456-2622
Goodwill Certified Training Programs:
Let Goodwill help you on your journey to a better future.
Goodwill's training programs build soft skills, provide entry-level industry certifications in high demand industries and offer employment placement services. All college training programs are fee-based and have eligibility requirements.  Goodwill works with participants to identify financial resources for their training.
Broadband (C-Tech)

220 hours
$25 Registration; $350 Program Fees; and $700 Tuition

Hospitality & Tourism (S.T.A.R.T.)

180 hours
$25 Registration; $90 Program Fees; and $875 Tuition

Microsoft Office Technology Certification

110 hours
$25 Registration Fee; $100 Program Fee; and $1,175 Tuition

Digital Literacy Certification

66 hours
$25 Registration Fee; $300 Tuition. (No Program Fees).
Call 504.889-5533 or email Lois Spaulding today at lspaulding@goodwillno.org to get started!
Other Workforce Programs and Services:
Homeless Outreach Program: Culinary Arts Training Program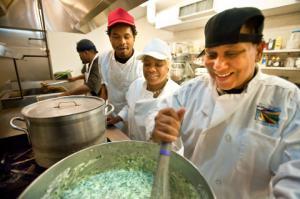 Goodwill's culinary arts training program is an 8 to 12 week training course that is certified through the American Culinary Federation (AFC) and taught in a fully equipped and approved industrial size kitchen. It provides culinary arts training and employment assistance to homeless individuals and recently released incarcerated individuals.
This program is offered in partnership with Unity of Greater New Orleans and is NOT part of Goodwill's College.
Classes are conducted in a working kitchen, Monday through Thursday, 8:30 AM – 4:30 PM. Support staff includes case managers and job coaches, as well as employment assistance coordinators.
Culinary Training Program covers:
Rules & regulations as well as hands-on operation of equipment, utensils and food preparation
Proper storage techniques and sanitation principles
Soup, sauces, baking, food preparation, breakfast cookery, basic cuts of meat and butchery
Receiving and storage practices
Regional cuisine, as well as general basic large scale food production techniques
After completion of required courses, student will receive a certificate of completion, as well as assistance with resume writing and job placement
Culinary Training Program covers:
Must be at least 17 years old
Meet low-income guidelines
Able to pass a T.B. skin test
Must have a clear criminal record (no current outstanding warrants)
Must possess functional literacy skills
Culinary Arts Training Program Criteria:
Goodwill's training program has graduated more than 700 students and its graduates are successful employed at fine dining restaurants, hotels, casinos, hospitals, hospitals colleges and offshore vessels.
For more information, contact: Ron Mott, Case Manager
Phone: 504-456-3928 Email: rmott@goodwillno.org
3400 Tulane Avenue, Suite 1000 New Orleans, LA 70119
Services: Disability Employment Services
Goodwill offers a variety of work and skills training opportunities to individuals with a diagnosed disability referred by Louisiana Rehabilitation Services.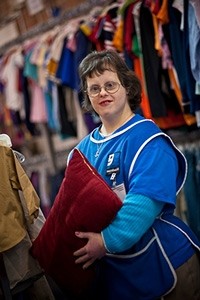 Services Include:
Vocational Assessment
Supported Employment Placement & Supported Employment Job Retention
Job Readiness
Direct Placement Services
Training Programs
Contact Ann Bonner at or 504-456-2622, extension 1124, for more information.
Services: Ex-offender Re-entry Program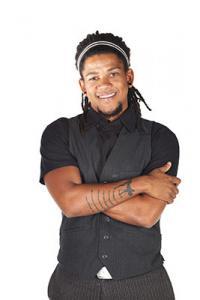 Don't let a past criminal record stand between you and a job. Last year, Goodwill helped more than 200 people with a criminal record overcome the challenges of reintegrating back into their communities.
Services Include:
Training, case management, mentoring and employment services men and women in work release programs, recovery houses and residential release centers.
Goodwill's Re-Integration Program (G.R.I.P.) offers skills training and enrollment to eligible participants who were released from the Louisiana Department Correction, Federal Prison System or City/Parish prison within the last 7 years
Contact Paris Coleman at 504-456-2622, ext. 1147, or pcoleman@goodwillno.org for more information.
Services: For Boys and Girls Ages 12 to 17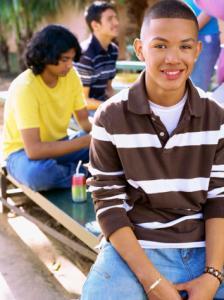 Goodwill's Youth Empowerment Program helps boys and girls ages 12 to 17 who face risk factors such as school failure, family violence, homelessness or other challenges. Individuals are matched with caring mentors who lend a supportive ear, coach and lead youth to resources that help them build career plans, set educational goals and develop social and job readiness skills.
Contact Nicole Espadron at 504-889-5553 or for more information.
Services: Veterans Housing Program
In collaboration with Unity of Greater New Orleans, Goodwill connects homeless veterans with disabilities to stable housing, job training, education and employment support services.
Contact Vashaun Coulon at 504-889-5565 or vcoulon@goodwillno.org for additional information.
Participants must be pre-screened through Unity Housing Specialist (FYI there is no particular contact person) located at 2475 Canal Street, Suite 300. Telephone 504-821-4496.
Documents needed:
• Homeless Letter
• Discharge Papers (DD-214)
• Valid Photo Identification Card
• Social Security Card
• Proof of Income, if any
• Verification of Disability