The regularly scheduled drive thru food pantry has been moved from Wednesday, June 3rd to Thursday, June 4th, 9:00 a.m. at Goodwill – 3400 Tulane Avenue.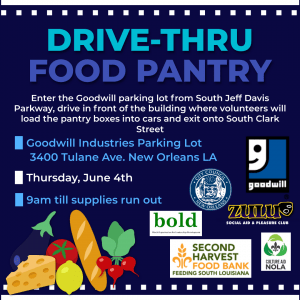 About Goodwill Industries of Southeastern Louisiana, Inc.,
Goodwill serves and advocates for the employment of individuals with disabilities and disadvantages and works to raise awareness of the barriers that they face by providing case management, job training, employment and support services for veterans, individuals with disabilities, formerly incarcerated workers, youth aging out of foster care, and dislocated workers. In 2019, Goodwill served 3,287 people and placed 458 people in employment.