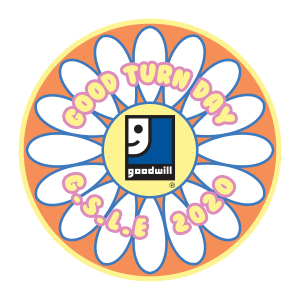 March 7, 2020 
9:00am- 8:00pm
Good Turn Day has become a community tradition between Goodwill Industries® and Girl Scouts Louisiana East.
HOW IT WORKS
Scouts do a Good Turn by collecting gently used items (such as clothing, books, shoes, purses, ect.) to bring to their local Goodwill and are honored with a "Good Turn" patch for participating.   Your participation also helps make the general public aware of Goodwill's mission and need for donations of quality gently used goods.  Once items are received, they are processed and sold in Goodwill's 23 retail stores to support its mission of helping people with disabilities and other employment disadvantages prepare for, find and retain work.  Your donations also keep millions of reusable items out of local landfills, making your good turn also good for the environment.
Not sure what or where to donate? Click below for links to our donation guidelines and store locations.
Goodwill Good Turn Day Participating Stores
About Goodwill:
Goodwill is a 501C3 nonprofit organization dedicated to offering opportunities to people with disabilities and other employment disadvantages to improve their economic self-sufficiency through training, education, support services and employment. Last year alone, Goodwill served 3,287 individuals with disabilities and other employment barriers and placed 292 in jobs.