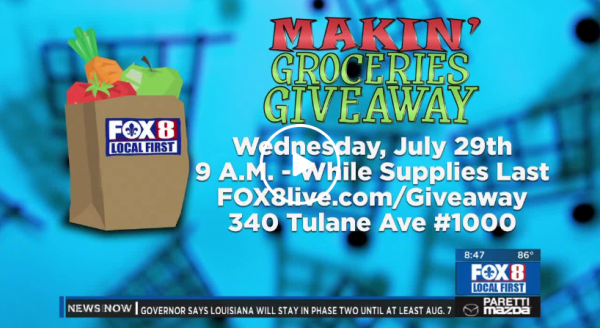 This week's drive thru pantry is an extra special one! The Broadmoor Improvement Association, Caleb and Calder Sloan's Awesome Foundation, Second Harvest Food Bank and Fox 8 NOLA are partnering together to host the Makin' Groceries Giveaway at Goodwill Industries. Learn more about this exciting event and the groups hosting it here.
We will begin handing out food boxes at 9AM on Wednesday, July 29, at Goodwill (3400 Tulane Ave) and distribute until supplies run out.
About Goodwill Industries of Southeastern Louisiana, Inc.,
Goodwill serves and advocates for the employment of individuals with disabilities and disadvantages and works to raise awareness of the barriers that they face by providing case management, job training, employment and support services for veterans, individuals with disabilities, formerly incarcerated workers, youth aging out of foster care, and dislocated workers. In 2019, Goodwill served 3,287 people and placed 458 people in employment.