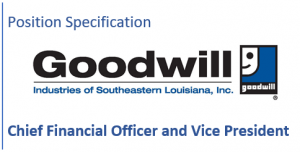 Chief Financial Officer and Vice President (CFO & VP)
About Goodwill Industries of Southeastern Louisiana (SELA), INC
Mission-Goodwill Industries of Southeastern Louisiana offers opportunities to people with disabilities and other employment barriers to improve their economic self-sufficiency through training, education, support services and employment.
Nationally, Goodwill Industries, Inc. is North America's largest nonprofit provider of employment and training services for people with disabilities and other barriers to employment. We also employ more people with disabilities than any other private-sector business in the world.
Goodwill Industries of Southeastern Louisiana with administrative offices located in New Orleans, Louisiana is currently in its 73rd year of service to people with disabilities and other barriers to employment. Over this period, Goodwill has grown substantially from (2) two employees to a diverse employee base of approximately 700 with annual revenue of more than $35 million. Socially, the growth has gone from zero programs to fifteen (15) programs. In order to serve the training needs of its citizens, Goodwill recently opened a Technical College offering hospitality, medical coding and medical assistant curriculums. By partnering with Goodwill of SELA, local businesses are provided customized custodial, grounds maintenance, mailroom and switchboard operator solutions.
Today, Goodwill has expanded to include 23 parishes in Southeastern Louisiana and 23 Goodwill Retail Stores as well as Contract Services and Work Force Development Job Re-entry Programs. We remain committed to our mission to help people overcome challenges to employment. In 2020 the Executive Leadership team will continue to integrate its purpose and values throughout the organization to sustain the vision of helping people reach their highest level of excellence in support of a sustainable community.
Position Description
We are seeking the ideal candidate who will be responsible for directing the fiscal functions of the corporation in accordance with generally accepted accounting principles issued by the Financial Accounting Standards Board, other regulatory and advisory organizations, and in accordance with financial management techniques and practices appropriate within the non-profit industry. The candidate must be able to oversee the entire financial function of the organization all while administering all responsibilities in accordance with policies set forth by the President and CEO, Board of Director and Generally Accepted Accounting Principles (GAAP). Sound fiscal management is our top priority.
Qualifications
Education, Experience and Credentials
Requires a Master's in Accounting/Finance or MBA.
CPA designation and ten to fifteen years of progressive financial and administrative work experience.
Knowledge of GAAP and others (CARF, FARS).
Knowledge of accounting and other software.
Ability to apply advanced mathematical concepts such as exponents, logarithms, quadratic equations, and permutations. Ability to apply mathematical operations to such tasks as frequency distribution, determination of test reliability and validity analysis of variance, correlation techniques, sampling theory and factor analysis reconciliations.
Ability to apply principles of logical and critical thinking to a wide range of intellectual and practical problems. Ability to deal with nonverbal symbolism (Formulas, graphs, etc.) in its most difficult phases. Ability to deal with a variety of abstract and concrete variables.
Total Rewards
Competitive base salary and bonus commensurate with experience.
Comprehensive benefit package.
Paid time off, car allowance, cell phone and technology support provided.
Relocation package available.
About New Orleans
Nicknames "The Crescent City" and more commonly called "The Big Easy," New Orleans is located in southern Louisiana where the Mississippi River enters the Gulf of Mexico. Known for its lively festivals and party atmosphere (especially during Mardi Gras). Venues like the French Quarter and Bourbon Street are world famous. New Orleans is also a major port for oil and petrochemical industries. Residents enjoy consistently warm temperature and a bounty of parks and recreational options. Education options include Loyola University and Tulane University. New Orleans offers some of the finest dining in the world and home to the NFL New Orleans Saints and NBA Pelicans sports teams.
Application Process
For consideration interested applicants are encouraged to apply with a current resume and summary narrative of their qualifications, experiences and the basis of their interest in the position to:
Marilyn Chapman, Ph.D.
Vice President of Human Resources
Goodwill Industries of Southeastern Louisiana, INC
3400 Tulane Ave. Suite 1000
New Orleans, Louisiana
Email: mchapman@goodwillno.org
*A submission as a Microsoft word attachment or a PDF is strongly encouraged. All qualified applicants will receive consideration for employment without regard to race, color, creed, gender, religion, age, sexual orientation or any other condition made Lawful by Federal and State Laws. Goodwill of SELA, INC. is an equal employment opportunity employer.