Some of our stores will be closing early on Sunday, December 15 to ensure all our employees can attending our Goodwill employee holiday party. Sorry for any inconveniences, store hours will be back to normal on Monday, December 16. Thank you have a happy holiday!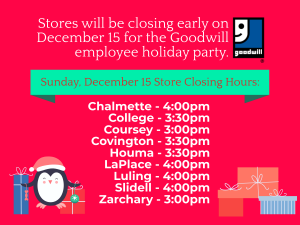 About Goodwill Industries of Southeastern Louisiana
Goodwill is a 501C3 non-profit organization dedicated to offering opportunities to people with disabilities and other employment disadvantages to improve their economic self-sufficiency through training, education, support services and employment. Last year alone, Goodwill served 2,816 individuals with disabilities and other employment barriers and placed 442 in jobs.