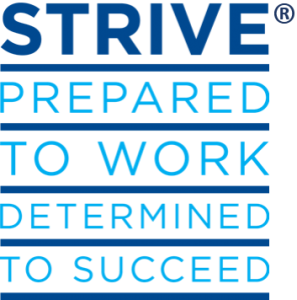 Goodwill Industries of Southeastern Louisiana provides FREE intensive job readiness program to prepare you for work. The first phase of the program is STRIVE's signature CORE workshop, which is an intensive four-week "soft skills" training in workplace readiness, responsibility, and professionalism.
Graduates of the CORE training may then attend optional vocational training in one of several career pathways aligned with local labor market demand and employer needs. Training results in the acquisition of one or more industry-recognized credentials.
2740 Canal St. New Orleans, LA 70119
ENROLLMENT
Ongoing, Open Enrollment
Bring state issued ID and proof of education (if available)
STRIVE CORE TRAINING
Intensive four-week training
No cost to participants
OPTIONAL VOCATIONAL TRAINING
Medical Office Administrative Assistant
Hospitality
Customer Service & Sales
Medical Coding & Billing
JOB PLACEMENT
Program staff helps participants develop a career plan and find exciting, well paid employment.
CONTACT
Nicole Espadron nespadron@goodwillno.org
About STRIVE:
STRIVE is a nationally recognized workforce development agency, headquartered in East Harlem, NY, and with more than 20 partner agencies across the United States. Since STRIVE's founding in 1984, it has helped more than 70,000 individuals across the country break the cycle of poverty and transform their lives through comprehensive career development and supportive services. STRIVE's programs have been cited by practitioners and policymakers as a model for assisting individuals who have significant barriers to employment and promotion. To learn more about STRIVE, visit www.striveinternational.org