Not only are you helping raise money for locals in the community to receive job training and job placement, BUT by buying a Goodwill Ball ticket, you also get entered to win a condo in the French Quarter for Mardi Gras! We like to call that a win win. Buy your tickets now at: https://goodwillno.org/goodwill-ball-2019/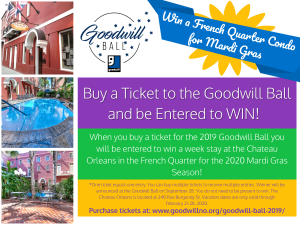 About Goodwill Industries of Southeastern Louisiana
Goodwill is a 501C3 non-profit organization dedicated to offering opportunities to people with disabilities and other employment disadvantages to improve their economic self-sufficiency through training, education, support services and employment. Last year alone, Goodwill served 2,816 individuals with disabilities and other employment barriers and placed 442 in jobs.
For more information, please contact Elizabeth Branley at 504-456-3926 or via email at ebranley@goodwillno.org.