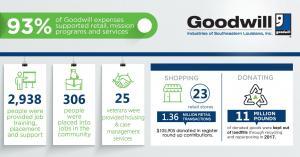 Since 1947, Goodwill has helped thousands of individuals with disabilities and other barriers onto a path toward reclaiming their independence. We operate three divisions: contracts, retail and workforce development. Each contributes to the community and well being of others in an important and diverse way.
Goodwill serves 23 parishes throughout Southeastern Louisiana. As we look to the future, there are an increasing number of individuals in need of our help. It is only with the continued support of individuals and businesses in our communities that we can continue what we do best—put people to work.
Goodwill Highlights – 2017
23 retail store and donation center locations
2,938 people served
306 individuals placed into employment
$105,905 register round up donations
403,724 donations
Goodwill's Facilities Management Services & Contracts Division serves more than 34 government and commercial contracts, managing approximately 1.855 million square feet of office space and 1,200 acres for grounds maintenance.
Contact Goodwill Industries of Southeastern Louisiana, Inc.
New Orleans Office
3400 Tulane Avenue, Suite 1000
Phone: (504) 456.2622
Fax: 504.456.2698
Baton Rouge Office
647 Main Street
Baton Rouge, LA. 70801
Phone: 225.308.0220
Houma Office
1750 Martin Luther King Blvd. Suit 102
Houma, LA 70360
Phone: (985) 262-8666