GIVE TO GOODWILL – YOUR DONATIONS CHANGE LIVES
Every dollar and item you donate to Goodwill works double-duty—helping us help individuals develop the skills and experience necessary to achieve self-esteem and self-sufficiency. In the process, we create a cleaner and healthier environment by keeping millions of pounds of materials out of landfills annually.
Donate Items
Goodwill welcomes your material donations of gently used clothing, shoes, books, electronics, house-wares and more. Proceeds from the sale of these items support our workforce development programs and services for people who are homeless or who have a disability.
What Can You Donate to Goodwill?
We accept gently used items including: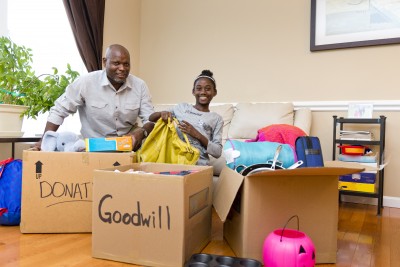 Accessories
Art & paintings
Bicycles & children's scooters
Books
CDs, DVDs, and other media
Clothing
Computer parts & Peripherals
Cookware
Decorative household items
Dinnerware
Electronics
Exercise equipment
Flat screen monitors
Flat screen televisions
Furniture
Glassware
Hand tools
Jewelry
Outdoor power equipment (gas & oil removed)
Power tools
Purses
Records
Rugs
School & Work uniforms
Small household appliances
Speakers, Stereos, Radios, Record players
Toys
Wheelchairs
What Can You NOT Donate to Goodwill?
Batteries
Broken or damaged furniture
Building materials
Car Seats
Children's high chairs
Children's play pens
Clothes hangers
Cribs
CRT tube televisions
Firearms of any kind
Food, beverages
Hazardous materials
Hospital beds
Major appliances
Mattresses/box springs
Pianos
Tires
Wet clothing
How To Donate Items
Find our Donation Locations to drop off your donations.
Goodwill Provides Home Pick-up
Our home pick-up service will resume on Wednesday, September 29th! 
Goodwill provides home pick-up with some restrictions. Before scheduling your home pick-up, please read our policies below. If you have further questions or need additional information, please email homepickups@goodwillno.org.
Home Pick-up Policies
Our home pick-up service is provided for those residing in territories where our retail stores and donation centers are located and should be utilized for large furniture items that cannot fit in a regular passenger vehicle. However, while a truck is picking up those large furniture items, we can also pick up smaller household items and bags of clothing at the same location. What should you donate? See above donation guidelines for a list of items we can and cannot accept.
Health and safety guidelines do not allow Goodwill employees to enter any residence or move items from upstairs locations. Please make sure all items are located outside of residence. They should be placed in the driveway, on the curbside or in the garage and clearly marked as donations for Goodwill.
All items must be in "good used condition or better" which would not include broken, stained, or torn items.
Goodwill pick-ups occur Monday – Friday between the hours of 8:00am – 4:00pm. Due to the number of scheduled pick-ups and varying locations, we are unable to provide a more specific window. We can provide an approximate 30 minute phone call before pick up, if requested.
You will receive a Donation Receipt for tax purposes.