Goodwill's Education Advancement & Readiness (GEAR) program begins with our signature 1-week job readiness training sessions. After this, participants move into our three-phase program designed to help them find, obtain and keep a job.
Throughout each phase, participants receive intensive case management to help them overcome obstacles to employment through referrals to necessary services such as childcare, healthcare and housing services.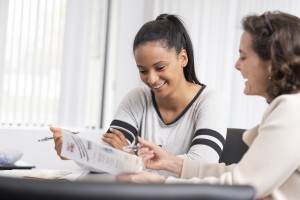 Phase 1: Creating My Path: problem solving, critical thinking, self-awareness, interpersonal skills
Phase 2: Job Readiness Skills: communication, decision making, workplace ethics, professional etiquette
Phase 3: World of Work: career planning, labor market information, resume writing, interview skills
Following GEAR, participants may progress into a sector-based occupational skills training, resulting in industry-recognized credentials. Occupational skills trainings are aligned with growth industries in each market; examples include construction, food service and healthcare.
Goodwill's Job Placement experts will assist every GEAR graduate with job opportunities. GEAR graduates are given lifetime access to career development and job placement services.
For more information, contact Nicole Foster-Espadron, 504-889-5553 or nespadron@goodwillno.org.